Studio Apartment: All You Need To Know

08 August, 2023

4 mins read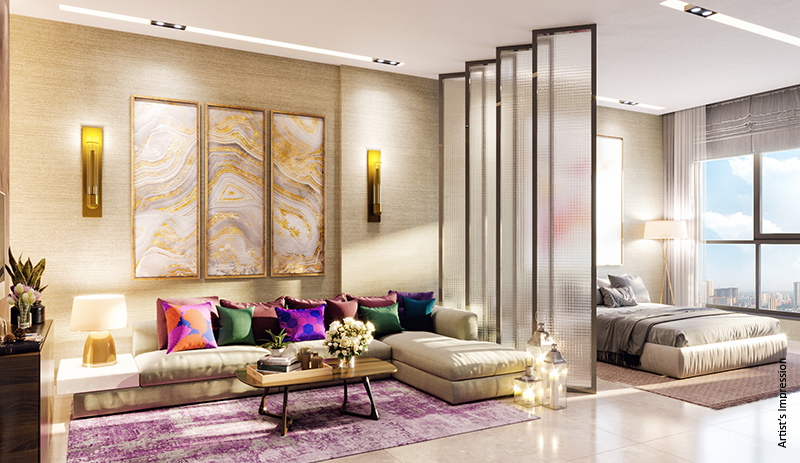 While looking for apartment living spaces, "Studio Apartment" is the most common and highly preferred choice! It is considered a compact living space providing every aspect of essential living.
So, what is a studio apartment? How is it different from a 1 BHK?
For individuals seeking a private living space, a studio apartment is an ideal and affordable option.
Here is a blog detailing studio apartment meaning, its size, benefits, and much more! For anyone seeking to buy a studio apartment should find this blog useful.
What Is a Studio Apartment?
A studio apartment is a small living space with an open floor plan. It has a living room, bedroom, kitchen, and bathroom. In short, the studio room means a living space with the required modern amenities.
How Is a Studio Apartment Different from A 1 BHK?
Homebuyers generally use the terms 1 BHK and studio apartments interchangeably. While the restricted space is a similarity, the difference is in the demarcation.
A 1 BHK distinguishes between the living room, kitchen, bedroom, and bathroom. However, the studio room means a single room that has an open floor space. Therefore, individuals can customise the entire living space by demarcating it based on their preferences, theme, and décor.
Studio apartments may be small, but they are very practical living spaces and some careful decoration can add elegance to the space while ensuring comfort.
What Is the Studio Apartment Configuration?
Studio apartments have an open floor space for a bed, bathroom, and kitchen. However, some apartments may have partition walls as a demarcation to segregate the rooms.
What Is a Studio Flat Size?
Most studio apartments have an open floor plan. However, there may be a minimum demarcation with small barriers or in the form of walls. It could differ based on the city or the locality in which it is constructed.
Studio Apartment Price
A studio apartment can have a varied price range depending on the location. As studio apartments are predominantly located in metropolitan cities, there is always a huge demand, and the prices keep increasing.
Studio Apartments: Carpet Area and Property Pricing
In Mumbai , the carpet area of a Studio Apartment ranges between 180 sq.ft and 500 sq.ft, and the price range can be between 20 Lakhs and 1.5 Crores depending on the area and property.
Studio Apartment Pros
Space-efficient — In a studio apartment, a single space is utilised efficiently to accommodate a layout that can maximise the space to include the required amenities.
Affordable — Compared to luxury flats and apartments, a studio apartment is highly affordable.
Low maintenance — As the living space is less, studio apartments only require a little upkeep.
Less electricity and water consumption bills — As the living space is limited, the electricity and water consumption are considerably less.
Well connected — As the studio apartments are generally centrally located, it is well connected to the city by different means of transport.
Studio Apartment Cons
While Studio apartment are practical choices for individuals living a bustling city life, they are not free from limitations.
No proper demarcations — Studio apartments are constructed to include all the necessary amenities in a limited space. Therefore, there may not be proper demarcations between different rooms.
Might require external storage spaces — With restricted spaces, it is possible to satisfy the necessary needs such as a bedroom, kitchen, bathroom, etc. However, providing the required storage spaces may be challenging and might require additional storage spaces.
Lack of privacy - Studio apartments are suitable for individuals or small families. Co-living culture or a joint family set-up can be difficult due to a lack of privacy.
How To Demarcate Space In A Studio Apartment?
Demarcating space in a studio apartment and decking it up based on individual preferences is simple with modern options.
Sliding doors – Sliding doors occupy less space than regular doors and are a graceful solution to privacy and creating more space.
Divider curtains – Using a room divider curtain is yet another elegant solution that can be used to segregate rooms. As there are many options on patterns and colours, individuals can opt for a room divider curtain based on their theme and décor.
Temporary half walls – Constructing temporary half walls can also demarcate a studio apartment for better and distinct segregation.
Glass or wooden screens – Glass or wooden screens will be more visually appealing and help segregate rooms while bringing brightness to the living space.
Smart interiors – Interior designing with intelligent furniture designs have become more appealing for studio apartments. One can combine a sofa and a bed in one piece of furniture and use them as preferred and convenient separately. It is also possible to use a loft bed to demarcate the sleeping space or arrange the furniture to create a visual separation in the studio apartment.
Bookshelves or kitchen shelves – Shelves can be a more practical solution as they can demarcate and elevate living space and serve dual purposes.
Conclusion
A Studio flat meaning, in a nutshell, is a flat offering a compact yet functional living space ideal for individuals living alone. These are affordable and cost-effective living spaces offering practical living, mostly for an individual. And in a city like Mumbai, where a personal living space with modern amenities is a prime concern, a studio apartment is an ideal choice.
Studio Apartments, alternatively known as 1BHK homes, are popular choices in premier housing societies like Piramal Revanta. It is an exclusive project that provides an excellent living space for individuals seeking the best architectural establishments with prime amenities.
Disclaimer- This article is based on the information publicly available for general use. We do not claim any responsibility regarding the genuineness of the same. The information provided herein does not, and is not intended to, constitute legal advice; instead, it is for general informational purposes only. We expressly disclaim any liability, which may arise due to any decision taken by any person/s basis the article hereof. Readers should obtain separate advice with respect to any particular information provided herein.