A Luxurious Home Amidst Nature – The Answer to Everything!

25 August, 2021

4 mins read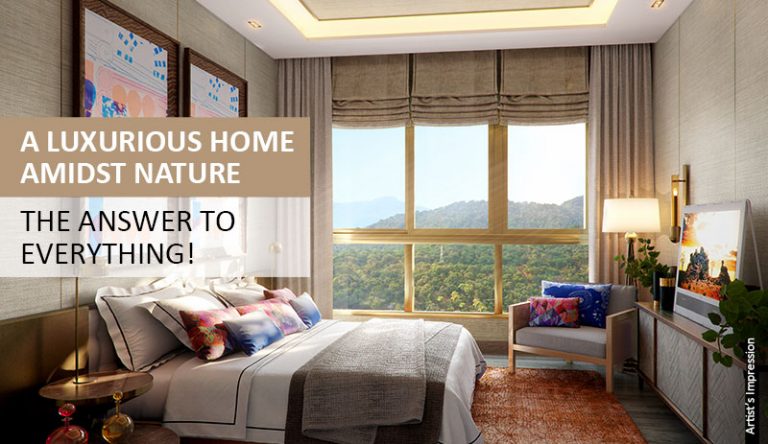 Nature is integral to our lives and living amidst nature – the answer to stressful modern worries and a harbinger of good health. Even research suggests that living closer to nature is beneficial for our well-being. It can also extend our lifespan by improving our health - both physically and psychologically.
Nature heals us, and the recent COVID-19 pandemic has further highlighted the need for living a healthy life. It is different to take a holiday once a while and enjoy nature, and a completely different thing to build a home with sprawling natural views.
More so, if you live in Mumbai, you would agree on how rigorously the city is cramped. The lifestyle capital of the country is undoubtedly the epitome of glamourous living. The alluring lifestyle, trendsetting vibes, monumental towers, iconic buildings and gorgeous skyscrapers adorning the skyline are spellbinding. But Mumbai is also a city that is starved for space.
In this crunched city, the idea of living amid nature might seem like a luxury. However, the biophilic design architecture at Piramal Revanta is a gift to individuals who wish to enjoy a piece of nature in their city homes.
Overlooking the Sanjay Gandhi National Park, these new-age, luxurious apartments offer the perfect amalgamation of natural magnificence and architectural sophistication. Lavishly and thoughtfully designed, 1,2 and 3-BHK flats in Mulund West come with up to 50% of open spaces, modern amenities and sprawling natural views of the ~25,000-acre Sanjay Gandhi National Park, assuring naturally curated peace and holistic well-being.
Living close to nature has numerous advantages. Some of them are:
Better mental and physical health:

Living in an area surrounded by greenery affects your overall well-being. Imagine taking a walk around the lush green gardens and enjoying the magnificent natural views from your balcony on a stressful day. It is sure to perk you up and make you feel better. Health experts earnestly suggest living close to nature has a positive influence on health. The reduction in stress and pollution levels reduces the risk of several harmful diseases.

Fresh air and open spaces:

Spaces closer to nature help you evade the negative impact of pollution. If your home is surrounded by greenery or lush gardens, or you own a residential property near a national park, you are more likely to breathe in fresh air without any harmful substances, which is not possible in urban spaces.

Leisure time in the true sense:

Studies have shown that living amidst nature helps you feel rejuvenated and lively. When you live in a natural environment, you are more likely to stay active and spend more time outdoors. This might not be the case when you are living in highly cramped urban housings. Green surroundings beckon you and enrich your life in the true sense.

Improves your quality of life:

If you settle in a home close to nature, you will find your quality of life improving - your energy levels would be higher, you will feel positive and healthy and you will stay motivated. Overall, your quality of life will improve. Further, with greenery surrounding your humble abode, the temperatures likely remain moderate, simultaneously reducing your energy consumption.
Piramal Revanta – Reside in nature's lap
If you want to benefit from nature and not compromise on your lifestyle, Piramal Revanta's residences are the perfect fit for your requirements. Enveloped by the sprawling ~25,000 acres of the lush Sanjay Gandhi National Park, Piramal Revanta is a testament to its stature as one of the finest places to live in Mumbai. With vast open spaces and conveniently designed modern infrastructure and amenities, this residential property near national park offers a natural ecosystem for all ages.