What Affects Your Property Value Today?

06 September, 2021

4 mins read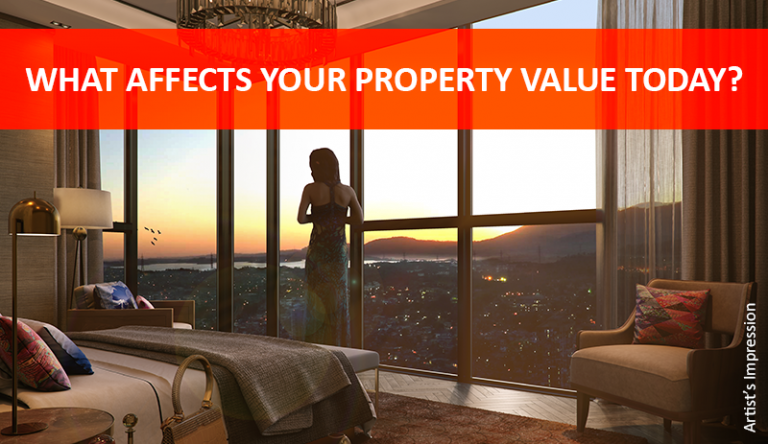 Buying a home is something that is on everyone's bucket list. However, with the rise in property prices, the purchase of a new home should be carefully planned. For this, you must consider the different factors that have a bearing on property value and make your decision accordingly.
Factors that affect property value these days
Location
One of the most significant variables affecting the price of a property is its location. If a property is situated in a commercial area or an elite neighbourhood, it is likely to have a value higher than, say, a property situated in a residential area in a less popular neighbourhood.

For instance, the properties located in South Mumbai are costlier than their counterparts located in the suburbs or in Thane.

The location of a property is a factor that is pivotal to both the builder and a house buyer since it affects the cost of the land, the construction cost, the expenses pertaining to land and building permits, etc., for the former. For the latter, a building's location is critical to factors like connectivity, lifestyle, work-life balance, etc.
Connectivity

The proximity of a property to important infrastructure, including roads, railway stations, and airports, plays a crucial role in determining the property's value. The closer a property is to railway stations, expressways, and airports, the higher is the ease of access.

Social Infrastructure

The social infrastructure of a location is important as our daily lives depend on these conveniences and we cannot do without them. Therefore, properties which are in the vicinity of shopping centres, theatres, public parks, hospitals, and academic institutions tend to add more value to the daily lives of house owners, thereby being significant factors that raise a property's value.

Design and Architecture

Most homebuyers have an inclination for buying stylish homes, that are designed by renowned architects and launched by branded developers as these properties are synonymous with comfort and luxury. Such homebuyers are also aware that premium projects that involve international collaborations will contribute to the property value.

Amenities

In contemporary times, all of us want a house that is equipped with modern amenities and functional interiors for a greater comfort and a better standard of living. / . We also tend to show a preference for residential projects that come with various amenities such as gymnasiums, gardens, sports facilities, swimming pools, parking facilities, etc., as these are indicative of the project's quality and drive a corresponding rise in the property's value as well. These days, the demand for apartments within a gated community is increasing as homebuyers are primarily seeking privacy and security when buying a home.

The availability of grocery stores and essential items such as milk, bread, and medicines within the premises of a building contributes to its valuation and final pricing, to some extent. Homeowners usually attach great value to these amenities and are willing to pay a higher price for them.

Demand and supply of real estate

The demand for real estate in a particular area combined with its availability also has a substantial bearing on the property value there. It is important to note that the value of the property in a particular area is the corollary of the demand for the property.

On the other hand, the supply of apartments in a particular area has an inverse relationship with the value of the apartment in that area. The lesser the supply of apartments in an area higher are the apartment prices there.

Recently, the reduction in stamp duty rates from 5-7% to 2-4% by the Maharashtra State Government between September 01, 2020 and March 31, 2021 coupled with the festive buying between October-November is among the major factors that has driven housing sales in Mumbai in the last one year, says an industry report.

Customisation

If a property has the option of customisation available for prospective buyers, including the option to include a specific design in the kitchen, balcony, or bathrooms, the value of that property tends to be higher than that of a property with no option of customisation. Some other examples of enhancements and customisation include:
The inclusion of a stairway in a duplex apartment;
Availability of Jodi layouts
A specific kind of flooring;
Scope for diverse wall finishes
Choice of smart home upgradations with automated devices
The Ultra-Luxurious Spaces at Piramal Revanta in the Heart of Mulund
At Piramal Revanta, we offer modern and luxurious 2-BHK and 3-BHK flats in Mulund, West. Equipped with advanced amenities such as a gymnasium, swimming pool, a badminton court, and a mini theatre, the project overlooks the beautiful 25, 000-acre Sanjay Gandhi National Park and is strategically located at the centre of Mulund's social infrastructure comprising schools, colleges, hospitals, malls etc.
To sum it up
Before selecting a home for yourself, you must ascertain your expectations, requirements, and budget. Furthermore, it is important to consider the factors affecting property value that have been discussed above.
If you wish to purchase a luxurious and comfortable property in Mulund, Piramal Revanta is an excellent choice.