Things to Look for When Buying a Flat in Mulund

08 October, 2021

4 mins read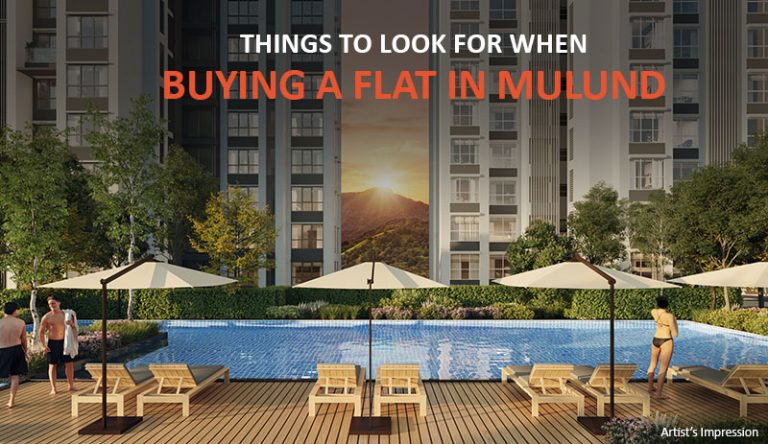 Mulund is being touted as the next big real estate explosion in Mumbai. With several upcoming residential, commercial and infrastructural projects in the area, Mulund has been the centre of attention for many home buyers.
If you too are looking to buy a flat in Mulund, here are some things you must keep an eye out for.
Pick a good real estate developer
Investing in a house is one of the biggest financial decisions of your life. Real estate is a costly investment, but the stakes are higher when buying a home because of the many emotions attached.
A home is a place for your children to grow up, celebrate birthdays, overcome the many challenges of life, and create memories to last you a lifetime. Therefore, it is important to pick a well-established and trusted real estate developer or group, so you get nothing but the best – house as well as amenities .
Look for a residential project with best-in-class infrastructure and amenities
A residential property with a poor layout that lacks enough open spaces can be claustrophobic, especially in an overcrowded city like Mumbai. If you are looking for flats for sale in Mulund West, a property like Piramal Revanta can be one of the best options.
Piramal Revanta is built across `12-acres and offers open spaces, a walking path, a yoga/zen garden, a play lawn for the little ones, a dedicated toddler play area and many such amenities that can elevate your lifestyle immensely. Additionally, the property offers amenities like a gym, swimming pool, squash court, indoor games zone, mini theatre, and salon and spa.
You can purchase 1, 2 and 3 BHK homes with a stunning view of the ~25,000 acres of the Sanjay Gandhi National Park and experience luxury, comfort and state-of-the-art amenities that ensure a natural ecosystem for each member of your family.
Pay attention to proximity to schools and hospitals
When you buy a flat in Mulund, look for a residential complex with good schools in the vicinity. Mumbai is known for its traffic and congestion. Picking a home with good schools nearby can offer more convenience to your kids and, at the same time, give you peace of mind knowing that your children will not be troubled by long commutes every day.
It is also important to buy a home in an area that has prominent hospitals close by. A health emergency can strike unannounced. So, it is better to be well-prepared always.
Look for suitable payment options
Buying a flat can put extreme pressure on your finances. Even with a home loan, it is important to look for payment options that can reduce your financial burden. Therefore, before you select a flat, make sure to consider all financial options and pick a house that offers affordable payment modes.
For instance, Piramal Revanta offers zero pre-EMI options* that make it easier to own your dream home without being burdened by the costs.
Check connectivity
Picking a well-connected locality is supremely important. If you are looking for flats for sale in Mulund West, you can look forward to seamless connectivity thanks to the upcoming Sonapur Metro line and the Goregaon Mulund Link Road. This area is also well connected to Lal Bahadur Shashtri Marg and Marathon Avenue, along with premium hospitals (Fortis, Mulund), educational institutes, shopping malls, places of worship and food joints.
In conclusion
Buying a home is a big decision – emotionally as well as financially. Make sure you analyse all the necessary factors, such as the location, connectivity, reliability, design, infrastructure, amenities, etc., of the property before buying your house. And, if you are looking to buy a flat in the central Mumbai suburb of Mulund, check out the luxurious offerings by Piramal Revanta.
*T&C Apply. Limited Period Offer.