Piramal Revanta: An abode offering a perfect blend of nature and architecture

22 January, 2021

4 mins read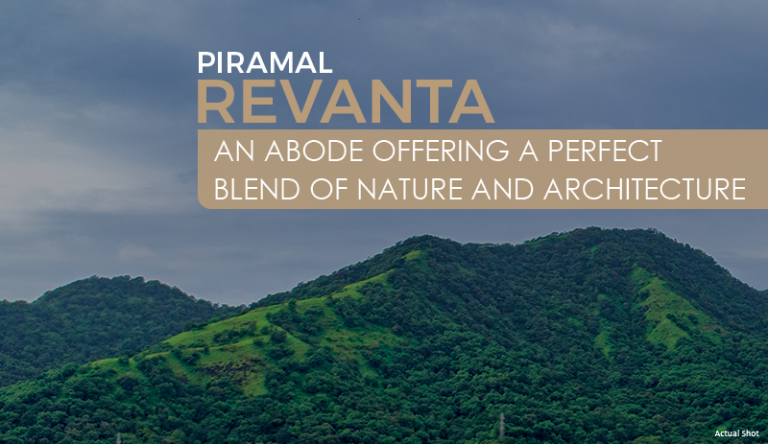 If one wants to experience lifestyle living to the next level, Piramal Revanta is a new-age luxury high-rise development, nestled in the heart of Mulund and offers a range of Studio, 1, 2 and 3 BHK flats for sale in Mulund West. An urban oasis away from the hustle of the city, the ultra-modern high-rise development is situated on the edge of the 25,000-acre Sanjay Gandhi National Park, with expansive views across the lush greenery of the Yeoor Hills. The project is built across 12 acres and designed to maximize natural light and ventilation.  
Piramal Revanta is an architectural landmark producing open views with contemporary elegance and is one of the finest luxury residential projects in Mumbai. The towers exude sophistication and glamour by elevating the skyline with an impressive partial glass-façade. Furthermore, some of the 2 & 3 BHK flats have L-shaped windows offering 180-degree views that define one's style of living with vibrant and colourful new-age interiors.
The project is a step above the rest with approximately 50% open spaces and conveniently designed state-of-the-art amenities and modern architecture providing a natural ecosystem for all ages. It is an ideal choice for fitness enthusiasts as it will feature a world-class gymnasium with modern equipment's. Some other fitness amenities include a swimming pool, badminton court, squash court, indoor games zone, kids playground, kids pool and splash pad, senior citizen area, walking path, basketball court, cycle and jogging track, junior free-play lawn, toddler play area, etc. Additionally, residents at Piramal Revanta can experience other unique amenities such as a salon & spa, creche, café lounge, multi-purpose hall, mini theatre, multi-purpose indoor studio, and workstation area. 
Piramal Revanta is an ideal place for nature-loving homebuyers with a high standard of living and a healthy lifestyle. The residency is a perfect blend of nature and architecture due to its proximity to Powai Lake and Vihar Lake, offering lush green views of Sanjay Gandhi National Park.
Located in one of the prime locations in Mulund, Piramal Revanta further offers seamless connectivity to Powai, BKC, Thane and Navi Mumbai. The project attracts homebuyers due to its connectivity and the upcoming infrastructure development - the Goregaon-Mulund link road and the extension of the Metro line will further boost the region and bring city-goers closer. 
Piramal Revanta has collaborated with world-renowned architects, interior designers, consultants, and artists to envision modern architecture and thoughtful interior concepts. Every detail is scrutinized from gracious layouts to luxurious interior finishes to deliver the most refined modern piece of art. Kohn Pederson Fox Associates (KPF), Design Architect, London; Wilson Associates, Interior Design, Los Angeles; SWA Group Landscape, Design, Dallas; Burohappold, Lead Structural & MEP Consultants, Mumbai; Eversendai, Construction Partners, Malaysia; Sandeep Shikre and Associates, Associate Architects, Mumbai; Lerch Bates, Vertical Transport, Mumbai and ALT, Façade Consultant, Manila, Philippines are some of the international and celebrated partners associated with Piramal Revanta. 
Piramal Revanta Tower 1 - P51800005983 | Piramal Revanta Tower 2 - P51800014021 | Piramal Revanta Tower 3 & 4 - P51800018099