Mulund – A New Hub for Real Estate Investment

25 August, 2021

4 mins read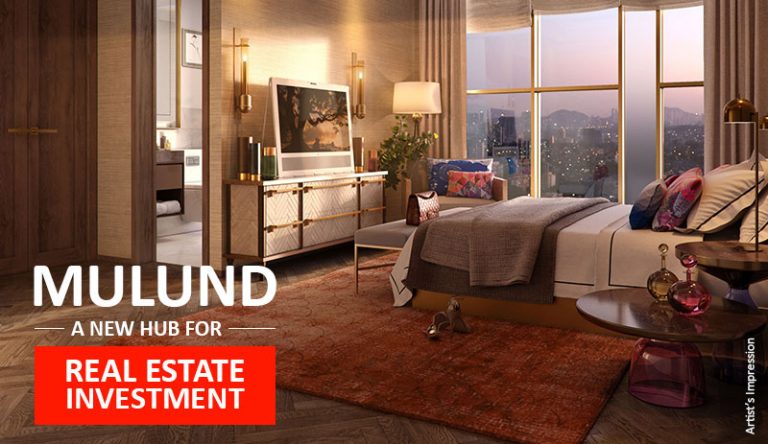 A sprawling suburb of Mumbai, Mulund is known for its quaint residential pockets, the famous Johnson & Johnson garden, late-night eateries, and much more. There was a time when Mulund was an industrial hub, but the area has now been taken over by skyscrapers, exceptional residential complexes, and malls. With a wide range of options for residential properties in Mulund, the area is now a hotspot for real estate investments and is developing at an amazing pace.
Following are the reasons why Mulund is coming up to be an important residential hub:
An ideal spot for buying a house

The location plays a crucial role in any commercial venture. Mulund is located at an apt distance from major areas of the city. It is close to the lush green pockets of the ~25,000-acre Sanjay Gandhi National Park, Yeoor Hills and similar natural environs that provide a stunning verdant view from the residences. The vicinity to nature provides solace from the disordered and hectic life of the metropolitan and, at the same time, bestows peace, quiet, and serene views.

Good opportunity for real estate investments

A commercial or residential property in Mulund is priced comparatively lower than in other western suburban areas like Andheri or Malad. This is why Mulund has developed as a keen micro-market for interested residential real estate investors and home buyers. Moreover, with residential projects like the Piramal Revanta, Mulund is proving to be an excellent spot for the real estate industry. Right from home buyers to investors, there's something for everyone in Mulund.

Excellent connectivity to important areas in the city

Despite being away from the flurry of the city, Mulund is seamlessly connected to other parts of the city. There are trains, buses, and taxis available throughout the day. The proximity to Lal Bahadur Shastri Marg, Eastern Express Highway and Jogeshwari Vikhroli Link Road (JVLR) offers excellent connectivity to all major parts of Mumbai.

Additionally, the Mulund-Airoli Link Road connects Mulund to Navi Mumbai. It is just 30 minutes from the major commercial hubs of Powai, Seepz and Bandra Kurla Complex (BKC). The upcoming east-west corridor, the Goregaon Mulund Link Road, will bring it closer to the western suburbs.

Finally, the upcoming Metro line from Kasarvadavali in Thane to Wadala will connect it to the ongoing Metro line network and bring it closer to the airport and other areas of Mumbai.

Great living solutions

As Mulund transforms into a major real estate hub, the residential infrastructure of the locality is improving. And this growing residential infrastructure is proving to be a boon to businesses. With an influx of people wanting to buy a home in the suburb, businesses are able to target new talent.

Real estate giants like Piramal have also invested in the area with their residential property, Piramal Revanta. Located in Mulund West, Piramal Revanta is spread across 12 acres and offers state-of-the-art residences. The residential complex is located at the heart of Mulund with almost 50% open spaces and get lush green views of the Sanjay Gandhi National Park.

Some of the top amenities include a skating rink, fully-equipped gymnasium, a mini theatre, café lounge, multi-purpose indoor studio, walking paths, poolside sitting areas, etc. In addition to this, there is a kid's play area, tree house for the children, pool, splash pad etc. The residential property also offers first aid rooms and a senior citizen area. And there are workstations for professionals too.
Conclusion
Mulund is an upcoming suburb and is likely to experience more commercial and residential growth in the near future. From a real estate point of view, investing in a property in Mulund makes a lot of sense. There are many residential properties like Piramal Revanta that offer proximity to work, are well connected to key neighbouring hubs, provide great amenities and luxurious living.
So, be a part of Mulund's growth by making it your home!