Live Life King Size – Luxury Living at Piramal Revanta in Mulund

13 September, 2021

4 mins read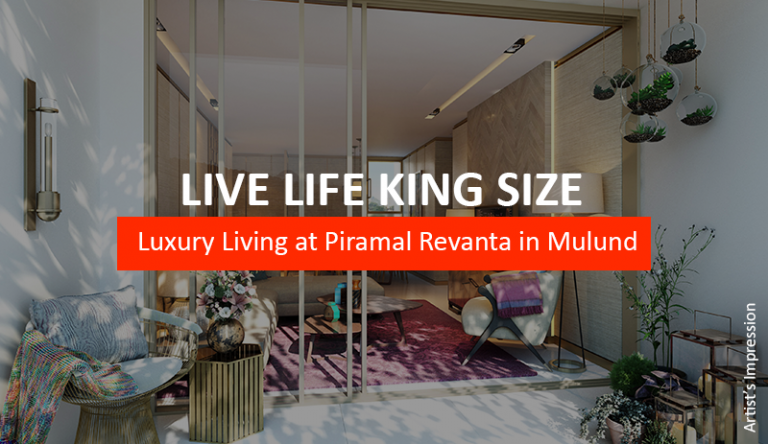 The word luxury living brings to the mind its association with style, beauty, quality, elegance and also comfort. And this is what Piramal Revanta brings to Mulund, blending in with the perks of an urbanised setting of the location but also providing a comfort zone at the same time!
While city life provides all the modern conveniences that make life easier, enjoying some calm and peace in an elegantly designed and comfortable personal space is something we yearn for. With Piramal Revanta's luxurious apartments in Mulund, you won't have to wait long to experience luxury in all its forms!
Nature's Beauty at its Best.
It is the beauty and solace of lush green views that you can enjoy from Piramal Revanta's 1, 2 and 3-bed residences, nestled close to the verdant Yogi Hills. The picturesque scene of the 25,000-acre Sanjay Gandhi National Park from the high-rise apartments is something anyone wanting to escape the dull city traffic and pollution would crave!
The Location You Desire
It is the homely vibe of the suburb that makes Mulund a great choice for residential properties. Think of entertainment options like malls such as R Mall, movie theatres like PVR Cinemas and Big Cinemas, well-known eateries like the Khau Galli, Food Studio, Starbucks, and more, as well as the peaceful greenery of the Sanjay Gandhi National Park.
With more people on the lookout for a luxurious residential property in Mulund, the infrastructure projects, such as the proposed Goregaon Mulund Link Road and the proposed Metro line 4 can considerably boost the transport ecosystem of the location and increase the connectivity of Mulund to other parts of Mumbai.
Piramal Revanta is only 500 metres from the proposed Sonapur Metro Station, 1.7 kms away from Nahur Railway Station, barely 2 kms from the Eastern Express Highway and 2.8 kms from Mulund Railway Station. Therefore, Mulund can be a great choice for those who want to cut down on their commute time and make it back home on time!
A Blend of Comfort and Style
With three launched multi-storey towers gracing Mulund's skyline, Piramal Revanta highlights the essence of luxury living with its exquisitely designed luxe apartments comprising impressive ceiling height for space and *dual aspect windows for sunlight and natural air.
The fine interiors in all the apartments and the quality and classic finishes paint a picture of elegance and comfort. The efficient and thoughtful layout of the apartments is instrumental in ensuring that you can be at ease either while working from home or enjoying your time off from work.
To complete the luxury living ecosystem, Piramal Revanta offers several amenities such as a multipurpose hall and badminton court, gymnasium, swimming pool and squash court for fitness enthusiasts, while other facilities for a more relaxed evening include a café lounge, mini theatre, multipurpose indoor studio and much more!
Conclusion
For a homebuyer seeking a luxury property in Mulund, Piramal Revanta weaves the perfect balance of comfort and style into each of the apartments with the efficiently planned layouts that takes into consideration every bit of the living space. The contemporary architecture of the development also celebrates more than just beauty; it is the art, biophilia, ventilation, light, community living, space, and peace that are the true elements of these designs!
With its beautiful luxury high-rise towers, Piramal Revanta aims to set high standards for quality and customer-centricity as well as flexible and modern home designs.
*In select apartments