Everything You Need to Know About S-Class Homes by Piramal Realty

28 February, 2022

4 mins read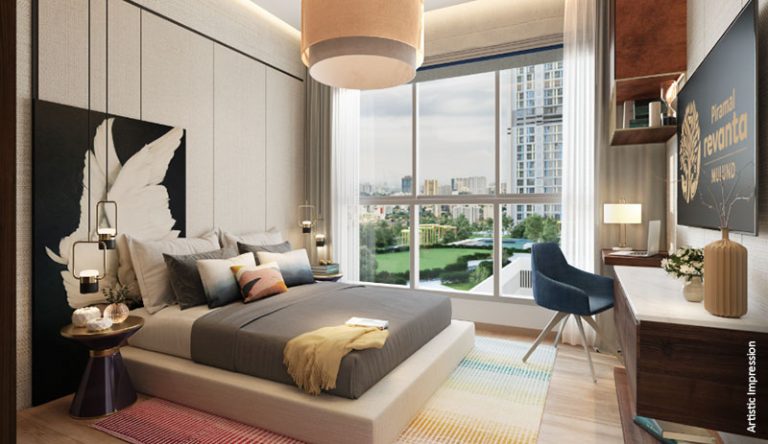 If you have been planning to buy a new home, you might already have a checklist that you don't want to compromise on. Whether the list includes well-designed homes in a strategic location, great connectivity, mesmerising views, or spectacular amenities, Piramal Realty's new S-Class Homes at Piramal Revanta in Mulund can fulfil all your desires.
S-Class homes by Piramal Realty are new-generation smart homes that offer classy residential spaces, a peaceful ecosystem, dedicated privacy, amazing views of the Sanjay Gandhi National Park, and world-class amenities. With the rising demand for optimally designed homes with good light, proper ventilation, and open spaces, S-Class homes by Piramal Revanta epitomize class and luxury for first-time homeowners.
The sprawling suburb of Mulund located in the northeastern end of the maximum city Mumbai has already become a popular realty destination, thanks to its agile infrastructure and excellent connectivity. Add to that a whole new generation of smart, fully automated homes that are curated to offer you a serene and ideal place to live, and it's no wonder Piramal Revanta is one of Mulund's most sought-after residential addresses.
Let's take an intimate look at some of the features that set these S-Class Homes apart:
Cleverly Designed Interiors

The purpose of automating your home is not simply to make the most out of technology but also to save time and make your life more convenient. Whether you are a first-time homebuyer or just searching for a new place to live with your family, S-Class Homes are built to go beyond the bare minimum and take everyday life to a new level.
With air-conditioned apartments equipped with a light control panel, digital motion sensors, and biometric security, you can spend less time worrying about trivial things and enjoy the experience of living in the 21st century.
Flexibly Designed for Families

Who doesn't enjoy having their own space at home? Keeping this in mind, not only are the S-Class Homes designed to be spacious but also accommodate family members across all age groups, be it a 6-year-old child or a 60-year-old individual, giving everyone their privacy.
Improved Quality of Life

Every person's dream is to live in an apartment blessed with an abundance of open spaces, light, and ventilation. S-Class Homes are designed with your need for space in mind, not only in the house but also outside. Constructed across almost 12 acres of land, Piramal Revanta makes use of the copious area and prime location to bring you a unique blend of world-class amenities along with wide, open spaces.
The high-rises have been built at the cusp of the Sanjay Gandhi National Park, which means you get to enjoy expansive views of the bountiful ~25,000-acre landscape close to the lush Yeoor Hills.
Superior Connectivity

The location of Piramal Revanta's S-Class Homes is such that you'll never need to think of travel as a hassle again. With Lal Bahadur Shastri Marg and the Eastern Express Highway connecting to key parts of the town and upcoming infrastructure projects like the Goregaon-Mulund Link Road or Thane-Wadala Metro Line, you can travel from home to anywhere in the city in record time. If that's not a dream come true when you live in the hustle-bustle of Mumbai, we don't know what is.
World-Class Amenities

These S-Class Homes are meant especially for those who have always wanted to live as part of a harmonious community. The massive multi-story clubhouses span over 30,000 sq. ft. and include everything from badminton and squash courts to a salon-cum-spa, a mini theatre, a cafe lounge, a workstation area, and creche facilities for new parents.
Take advantage of the stunning landscapes by relaxing in the courtyard, cycling through lovely trails, or skating to your heart's content in the rink. The residential complex also offers a kids' play area, multipurpose play court, dog park, and a yoga garden to give you a holistic living experience.
Cutting-edge, contemporary, and designed for your convenience — Piramal Revanta's S-Class Homes are the definition of luxury. They are a testament to the importance of each second in your life, so you don't waste time on the mundane and live to experience the extraordinary. Celebrating natural views, wide spaces, and community living, S-Class Homes are one of the most luxurious places to live in the city.
Disclaimer- This article is based on the information publicly available for general use. We do not claim any responsibility regarding the genuineness of the same. The information provided herein does not, and is not intended to, constitute legal advice; instead, it is for general informational purposes only. We expressly disclaim any liability, which may arise due to any decision taken by any person/s basis the article hereof. Readers should obtain separate advice with respect to any particular information provided herein.