Kanheri Caves in Sanjay Gandhi National Park

02 June, 2023

4 mins read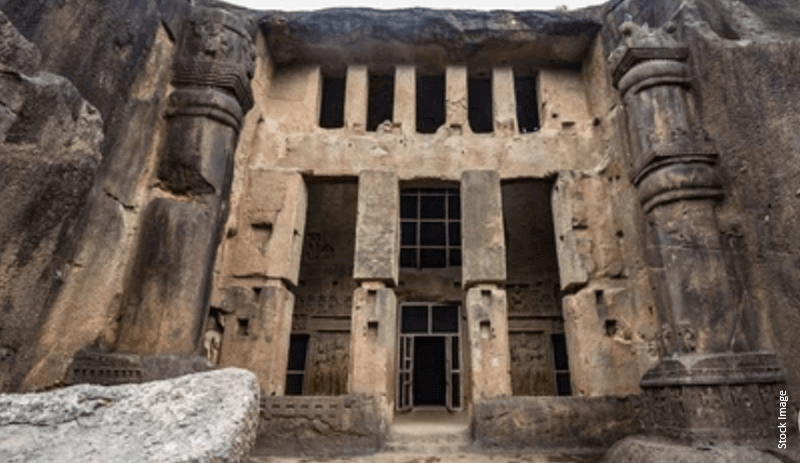 Away from the hustle-bustle of the city and on the outskirts of the commercial capital of India lies this popular picnic and recreational spot – the Sanjay Gandhi National Park (SGNP). Spread across a massive area of 103.84 square kilometres, the SGNP is known for a wide variety of flora and fauna, including 274 species of birds, 35 species of mammals, 170 species of butterflies, and over 1300 species of plants and trees.
You can visit this serene place with your friends and family on weekends and enjoy complete peace of mind in the lap of nature. While at the SNGP, you can take a ride on a mini-train, indulge in boating in the two artificial lakes, and trek to watch the famous Kanheri caves. Also known as Krishnagiri or Kanhagiri in the ancient inscriptions, Kanheri caves in Mumbai are one of the most popular tourist spots among national, international, and local tourists.
Kanheri Caves Location
The Kanheri Caves are situated on a hillside in the Sanjay Gandhi National Park near Mulund. The SGNP runs across the western suburbs of Mumbai to Eastern suburban areas, including Bhandup and Mulund. It is well-connected with other locations in Mumbai, and you can reach this place by road or by train. The Mulund Railway Station is within walking distance of the SGNP Entry Gate in Mulund.
After reaching the Sanjay Gandhi National Park, you can trek to reach the top of the hillside to enter the Kanheri Caves premises. If you're too interested in trekking, you can take a bus ride, drive a car, or ride a cycle to reach there. The Kanheri Caves are approximately five kilometres from the SGNP entrance gate.
Kanheri Caves History
The history of the Kanheri Caves in Mumbai can be traced back to the 1st Century BCE Buddhism spread in India. The Buddhist monks who travelled to India during that time used these caves as their settlement point and a place for worship, study, and meditation. That is why these caves are also known as Buddhist Viharas or Monasteries.
The Kanheri caves have important Buddhist shrines and large stupas, which are proof of Buddhist settlement here during the 1st Century. Most of the decorative art seen in the cave excavations points toward the Buddhist culture and architecture. Then, there is a colossal statue of Buddha in Chaityagraha in Cave 3, which is believed to be the worship hall for the monks who lived here.
What is the Significance of Kcanheri Caves?
The name "Kanheri Caves" has been derived from the Sanskrit word, "Krishnagiri", which means black mountains. These caves comprise more than 100 caves and rock-cut monuments depicting Buddhist settlements in India. They contain Buddhist sculptures, paintings, inscriptions, and relief carvings, dating back to the 1st century.
What makes Kanheri Caves unique and an architectural wonder is that they have been carved out from a single bedrock. In fact, the Kanheri Caves are the largest number of caves excavated from a single rock in the entire world. These caves are masterfully designed and have water cisterns to enable rainwater harvesting.
Apart from gasping at its natural beauty, you can also enjoy trekking and hiking in these caves in the hills. The 2-hour trekking path consists of rock-cut steps and bridges that take you to different parts of this huge network of caves. You can also watch a huge variety of wildlife during your visit to the Kanheri Caves in Sanjay Gandhi National Park.
To conclude
Kanheri Caves or Kanheri Gufas are a 2000-year-old rock complex situated inside the Sanjay Gandhi National Park near Mulund in Mumbai. It is a protected archaeological site that you can visit with your friends and family for a perfect weekend picnic.
If you're looking to settle down near this beautiful spot, you can have a look at the Piramal Revanta in Mulund, which is one of the best housing complexes near Mumbai with all modern amenities.
Frequently Asked Questions
What is the best time to visit Kanheri Caves?

The Sanjay Gandhi National Park remains open from 9 AM to 6 PM. Although you can visit here anytime during these hours, we recommend the morning hours to avoid the scorching heat and crowd.

Is there any entry fee for entering the caves?

Yes. You will have to pay a small entry fee to enter the Kanheri cave complex. It is ₹15 per person for Indian nationals and ₹200 per person for foreigners.

How far is Kanheri Caves from Sanjay Gandhi National Park?

The Sanjay Gandhi National Park's entrance is roughly 5 km away from Kanheri Caves.

Which station is closest to Kanheri caves?

The Borivali Railway Station is the railway station closest to the Sanjay Gandhi National Park, and from there you can take a public bus, an auto, or a taxi.
Disclaimer: This article is based on the information publicly available for general use. We do not claim any responsibility regarding the genuineness of the same. The information provided herein does not, and is not intended to, constitute legal advice; instead, it is for general informational purposes only. We expressly disclaim any liability, which may arise due to any decision taken by any person/s basis the article hereof. Readers should obtain separate advice with respect to any particular information provided herein