Embrace Scenic Views at Mulund's Finest Residential Landmark!

30 September, 2021

4 mins read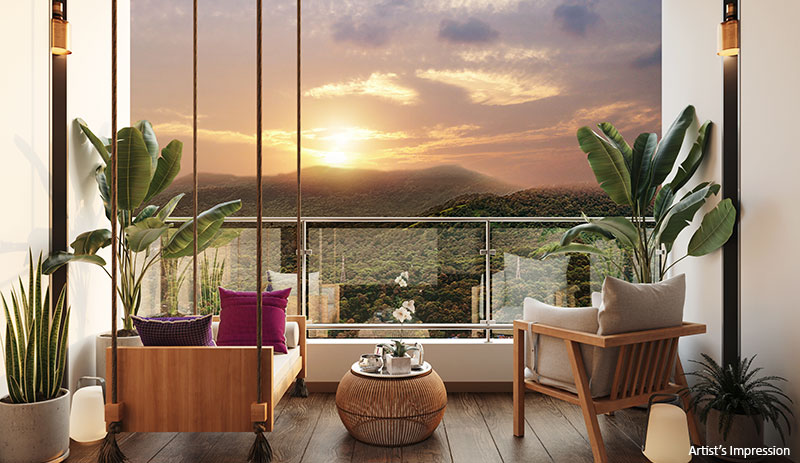 Living in a big, bustling metropolis can take a toll on each one of us, thereby driving us to seek refuge with nature. Perhaps this is why there has been a rise in the demand for houses in the vicinity of gardens, beaches, and national parks. If you are looking for a house that combines proximity to nature with luxurious amenities and seamless connectivity, Piramal Revanta in Mulund is an excellent choice for you. Overlooking the picturesque ~25,000-acre Sanjay Gandhi National Park and Yeoor Hills, Piramal Revanta is a luxurious ~12 acre residential complex in Mulund, West, with 1, 2, and 3-bed residences. The project seamlessly connects you to the city infrastructure and at the same time, allows you to distance yourself from the hustle - bustle through its biophilic design – up to 50 percent open spaces and proximity to natural environs. Here is why Piramal Revanta is a dream luxury home for nature lovers
View of the verdant Yeoor Hills and Sanjay Gandhi National Park

Piramal Revanta offers panoramic views of the Sanjay Gandhi National Park through its extension – the Yeoor Hills. Being a residential property near a national park, Piramal Revanta would let you own a piece of nature with fresh air and lush green views, keeping you connected with nature, an aspect often missed out in modern residential projects in a city like Mumbai. After a busy day at work, you can stand by your window or on the balcony and let yourself be at peace by looking at the nature's canvas effortlessly painted in vivid hues.
The three launched towers

The three towers of Piramal Revanta - Ravik, Rohin, and Ravin – have been thoughtfully designed to provide the element of nature to its inhabitants. With partial double glass façade in select apartments and L-shaped windows that provide 180-degree views, there is a seamless connection between the indoors and the outdoors - allowing natural light and stunning views to brighten your day as well as your mood. Some of the apartments also have a dual aspect feature that make your home cross ventilated, in addition to allowing ample sunlight and providing dual aspect views on both sides of your living room. Additionally, the apartments also offer laminated wooden flooring in the master bedroom, and high-quality bathroom fittings.
Amenities to help you stay fit

Piramal Revanta offers a diverse set of state-of-the-art amenities that cater to the needs of young and old. With an enhanced emphasis on lifestyle and fitness, the project houses a yoga garden where you can sit in peace and practice the magical art of yoga. For running enthusiasts, there is a track for jogging whilst cyclists can utilize a well-equipped cycling track. The project also features a gymnasium equipped with different types of modern exercise and training equipment. The amenities at Piramal Revanta have also incorporated the requirements of sports enthusiasts. With courts for Badminton, Squash, and Basketball, you can indulge in the sport of your choice. If you are more inclined towards swimming, the state-of-the-art swimming pool can be your preferred place to spend moments of leisure.
Design features that can enhance your bond with nature

With a walking path spanning the premises, you can spend time introspecting or not thinking anything at all whilst accompanied by music or silence. Those long walks can be all you need to strengthen your fellowship with nature and, perhaps more importantly, your bond with yourself. Also, there is comfortable seating available in the courtyard, so you can intersperse your walk with pauses.
No dearth of entertainment and socialising

If you like socialising, Piramal Revanta has got you covered. With a multipurpose indoor studio and a cafe lounge, there is ample space for you to interact with friends, family, and neighbours. There is a mini theatre where you can watch movies and take part in community activities. The project's salon and spa have been designed keeping in mind the standards of luxury living.
To sum it up
With state-of-the-art amenities and infrastructure that have been designed to help residents connect with nature, Piramal Revanta is an architectural masterpiece. With the views of the Sanjay Gandhi National Park, the project enjoys ample natural light and air, which paint a stark contrast to the pollution and haze defining most parts of the city. If you want to experience nature's bliss with luxurious living in Mumbai, Piramal Revanta is where your search should stop.